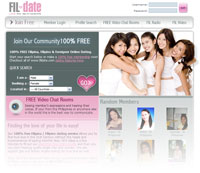 It doesn't get better then getting almost all our features free, we are the fastest growing Filipino, Filipina and Foreigner dating site. You can see why with all of the great features FILdate.com has to the right.

We have Filipino videos, live radio stations from Manila, Cebu, Cagayan de Oro, Davao and more. We also have a great www.fildate.com music, video and game player you can place on your profile on your favorite sites, click here.

Our members favorite is the in-site Instant Messaging with webcams and audio. You can also find our premium filipino video chat rooms. Once signing up as a premium member (Premium membership is free for those who live in the Philippines), join in on conversations with many people at the same time. Plug in your webcam and start chatting to members in real time...you can start making connections with people as soon as you sign up as a premium member but even non-premium members can connect via in-site email 100% free!

Signing up to get your free profile takes 3 minutes and most fields on the form are optional.

Click here to get started today!