Communicate with online members
who are actually online the same time you are. From your member's homepage just click the who's online link, see the list of members and clike on the "I'm Live Now" bubble under thier mini profile. If they accept your chat invitation that pops up on thier screen your in business ;)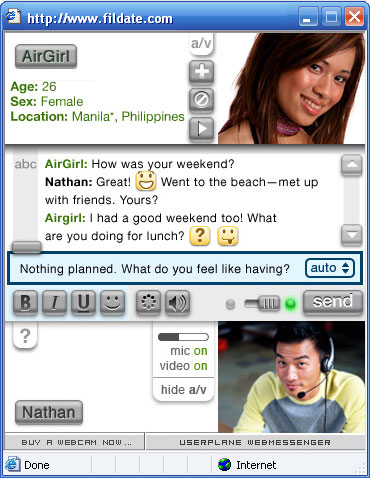 One-to-one formatted text chatting
or live text messaging, Webmessenger has the features users want: change text style, add graphical smilies, link to URL's, and get alerts and feedback about the system and the other user's activity.
One-to-one live audio/video streaming Screenshot
Served by FILdate.com's ultra fast, enterprise-level Flash Communication streaming network, users experience real-time a/v communication with unprecedented performance, stability, and efficiency. With the click of "send a/v" and without additional installation or setup - FILdate's Apps automatically recognize any webcam and begin broadcasting live streams.
Integrated user profiles
Through simple XML, FILdate.com Apps exchange information and user data with your servers and display live, mini-profile data in the Webmessenger's Flash interface.
Interactive "Kiss"/"Smack" animations
Besides smilies, Webmessenger comes with two default interactive animations that users can send back and forth to each other. Next to the conversant user's picture, rollover the arrow and click "kiss" or "smack" - you'll see.